VICTORY | Logic Pro X Template - Jon Brooks (Epic Orchestral Music)
Logic Pro X Template Download
for
'Victory'
by film composer Jon Brooks. Cinematic, heroic and victorious dramatic music. Epic winning majestic musical theme with a grand climax. Ideal for advisements, stings, rpg, games, idents, advertising, computer games, trailer tracks and film scores. It could depict an intense battle, a superhero challenging his enemy or a sporting win. Music for a hero, or a heroine! Instrumentation includes: Brass, Drums, Strings, Choir, Percussion and Orchestra. Orchestral Music, Intro, Power, Suspense, Aggressive and Triumphant. Battle, War, Army, Olympic. Dynamic and intense.
Download Size:
30.3 MB
Uncompressed Size:
 40.2 MB
Music Track Duration:
0:15
Key:
F minor
Music Producer:
Jon Brooks
Note:
It is likely that you will have to replace some of the instruments or plugins for similar ones unless you have them all yourself; otherwise playback might be a little different. Some audio files are included but not the sample libraries.
YouTube:
http://www.youtube.com/jonbrookscomposer
Facebook Page:
https://www.facebook.com/JonBrooksComposer
CDBaby:
http://www.cdbaby.com/Artist/JonBrooks1
SoundCloud:
https://soundcloud.com/jonbrooks-1
Website:
http://www.jonbrooks.co.uk
IMDB:
https://www.imdb.com/name/nm1929142/
Twitter:
https://twitter.com/JonBrooks_Music
Audio Channels: 14
MIDI Channels: 39
Bus Channels: 1
INSTRUMENTATION:
Gran Cassa (Audio)
Percussion Accent (Audio)
Cymbal Roll (Audio)
Belltree (Audio)
Orchestral Kit (Audio)
Percussion (Audio)
Cymbal Crashes (Audio)
Triangle Roll (Audio)
Tam Tam (Audio)
String Horror (Audio)
Choir (Audio)
Violins (Vienna Instruments)
Violas (Vienna Instruments)
Cellos (Vienna Instruments)
String Ensemble Spiccato (Project SAM)
String Ensemble Staccato (Project SAM)
String Ensemble Sustain (Project SAM)
Trumpet (Vienna Instruments)
Trumpet Staccato (East West)
French Horns (Vienna Instruments)
French Horns (VSL)
Trombone Swells (SAM Trombones)
Trombone Sustain (SAM Trombones)
Brass Ensemble Staccato (Project SAM)
Tubular Bells (East West)
True Strike (Project SAM)
Gran Cassa True Strike (Project SAM)
Titan Ensemble (Drums of War)
Army of Doom (Drums of War)
Timpani (VSL)
Sonic Boom (Distorted Reality)
Pulsing Morph (Logic Pro X Factory)
Male Shouts/Female Staccato/ Male/Female Sustain (East West)
Drums (EzDrummer)
Tags:
Cinematic, Orchestral, Heroic, Victorious, Dramatic, Music, Epic, Winning, Majestic, Musical, Theme, Soundtrack, Filmscore, Grand, Climax, Sting, RPG, Games, Gaming, Idents, Advertising, Computer Games, Trailer, Trailers, Track, Film, Score, Movie, Superhero, Challenge, Sporting, Win, Hero, Heroine, Brass, Drums, Strings, Choir, Percussion, Orchestra, Orchestral Music, Intro, Power, Aggressive, Triumphant, Battle, War, Army, Olympic, Dynamic, Two Steps From Hell, Shostakovich, Mahler, James Newton Howard, Elliot Goldenthal, Ramin Djawadi, Patrick Doyle, Hans Zimmer, Wagner, Mark Petrie, Audiomachine
More products from Logic Pro X - Download Templates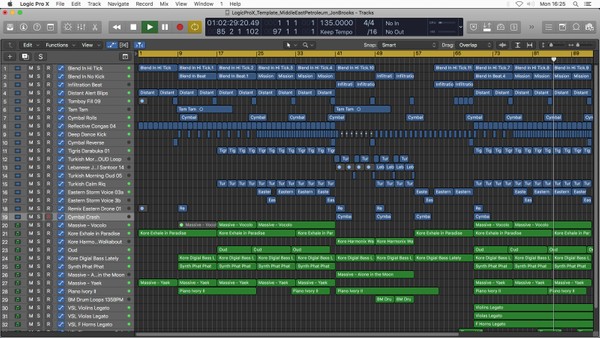 Middle East Petroleum - Logic Pro X Template Project Download (Corporate Instrumental Music)