Komatsu D85EX-15, D85PX-15 Bulldozer Operation & Maintenance Manual - EEAM022804
This manual PDF download describes procedures for operation, handling, lubrication, maintenance, checking, and adjustment for the D85EX-15, D85PX-15 Komatsu Bulldozer. It will help the operator or anyone realize peak performance through effective, economical and safe machine operation and maintenance.
APPLICABLE MODELS :
Komatsu D85EX-15 Bulldozer
Serial Numbers : 10001 and up
Komatsu D85PX-15 Bulldozer
Serial Numbers : 1001 and up
TABLE OF CONTENTS :
- SAFETY
- OPERATION
- MAINTENANCE
- SPECIFICATIONS
- ATTACHMENTS, OPTIONS
- INDEX
- COLOPHON
MANUAL SPECIFICATION :
File Format : PDF
Language : English
Printable : Yes
Searchable : Yes
Bookmarked : Yes
Product Code : EEAM022804
Total Pages : 240
This manual provides rules and guidelines which will help you use this machine safely and effectively. The precautions in this manual must be followed at all times when performing operation and maintenance.
Instant Download means there is NO shipping costs or waiting for a CD or paper manual to arrive in the mail! You will receive this manual TODAY via Instant Download on completion of payment via our secure payment processor. We accept ALL major credit/debit cards/paypal.
This page sometime can be found use following keyword : service manual, repair manual, workshop manual, technical manual, owner manual, operating manual, maintenance manual, parts manual. Please make sure you read and understand the title of this manual before decided to buy.
More Info :
https://www.sitelux.com
-
FOREWORD
FOREWORD
SAFETY INFORMATION
Noise emission levels
Vibration levels
Guide to Reduce Vibration Levels on Machine
INTRODUCTION
FRONT/REAR, LEFT/RIGHT DIRECTIONS OF MACHINE
NECESSARY INFORMATION
MACHINE SERIAL NO. PLATE AND POSITION
ENGINE SERIAL NO. PLATE AND POSITION
BLADE SERIAL NO. PLATE POSITION
RIPPER SERIAL NO. PLATE POSITION
ROPS, FOPS NO. PLATE POSITION
POSITION OF SERVICE METER
TABLE OF ENTER SERIAL NO. AND DISTRIBUTOR
MACHINE SERIAL NUMBER PLATE
FOREWORD
SAFETY
OPERATION
MAINTENANCE
SPECIFICATIONS
ATTACHMENTS, OPTIONS
INDEX
COLOPHON
SAFETY
SAFETY
SAFETY LABELS
POSITIONS OF SAFETY PICTOGRAMS
SAFETY LABELS
GENERAL PRECAUTIONS
PRECAUTIONS FOR OPERATION
BEFORE STARTING ENGINE
OPERATION
TRANSPORTATION
BATTERY
TOWING
PRECAUTIONS FOR MAINTENANCE
OPERATION
GENERAL VIEW
GENERAL VIEW OF MACHINE
GENERAL VIEW OF CONTROLS AND GAUGES
EXPLANATION OF COMPONENTS
FRONT PANEL
CHECK MONITOR GROUP
CAUTION MONITOR GROUP
EMERGENCY CAUTION ITEMS
METER GROUP
SWITCH
LAMP
METHOD OF USING DISPLAY PANEL B (Multi-information)
SWITCH
CONTROL LEVERS, PEDALS
DUST INDICATOR
FUSE BOX
CIRCUIT BREAKER
FUSE CAPACITY AND NAME OF CIRCUIT
FUSIBLE LINK
DOOR OPEN LOCK
SASH GLASS INTERMEDIATE LOCK
DOOR POCKET
ASHTRAY
CAR STEREO, HANDLING
EXPLANATION OF COMPONENTS
METHOD OF OPERATION
PRECAUTION WHEN USING
AIR CONDITIONER
GENERAL LOCATIONS AND FUNCTION OF CONTROL PANEL
METHOD OF OPERATION
PRECAUTIONS WHEN USING
SET SO THAT COLD AIR DOES NOT DIRECTLY BLOW ONTO THE GLASS SURFACE
CHECKS DURING OFF-SEASON
PROCEDURE FOR REPLACING RECEIVER
CHECK COMPRESSOR BELT TENSION AND REFRIGERANT (GAS) LEVEL
CLEANING AIR FILTER
ACCUMULATOR, HANDLING
METHOD OF RELEASING PRESSURE IN OPERATING CIRCUIT ON MACHINE EQUIPPED WITH ACCUMULATOR
OPERATION
CHECK BEFORE STARTING ENGINE, ADJUST
WALK-AROUND CHECK
CHECK BEFORE STARTING
ADJUSTMENT
OPERATIONS AND CHECKS BEFORE STARTING ENGINE
STARTING ENGINE
NORMAL STARTING
STARTING IN COLD WEATHER
OPERATIONS AND CHECKS AFTER STARTING ENGINE
BREAKING IN THE MACHINE
NORMAL OPERATION
IN COLD AREAS
STOPPING ENGINE
CHECK AFTER STOPPING ENGINE
MOVING MACHINE OFF
STOPPING MACHINE
SHIFTING GEAR
SHIFTING BETWEEN FOEWARD AND REVERSE
STEERING MACHINE
NORMAL TURNING
TURNING WHILE DESCENDING A SLOPE
PRECAUTIONS FOR OPERATION
PAY ATTENTION TO GAUGES
PERMISSIBLE WATER DEPTH
PRECAUTIONS WHEN TRAVELING UP OR DOWN HILLS
PRECAUTIONS ON SLOPE
METHOD OF USING BRAKES
PROHIBITED TO KEEP THE DOOR OPEN DURING OPERATIONS
IT IS PROHIBITED TO MODIFY THE CAB GLASS IN ANY WAY THAT WILL OBSTRUCT THE VIEW
PRECAUTIONS FOR BLIND SPOTS CAUSED BY CAB STAY AND ROPS STAY
PARKING MACHINE
CHECK AFTER FINISHING WORK
LOCKING
WORK POSSIBLE USING BULLDOZER
DOZING
CUTTING INTO HARD OR FROZEN GROUND OR DITCHING
FELLING TREES, REMOVING STUMPS
PUSHER OPERATIONS
SMOOTHING
ADJUSTING POSTURE OF WORK EQUIPMENT
BLADE ADJUSTMENT
However, the more the digging angle is changed, the more the change becomes in the amount of tilt on the left and right sides provided by the tilt cylinder.
ADJUSTING RIPPER
TIPS FOR LONGER UNDERCARRIAGE LIFE
OPERATION METHOD
INSPECTION AND ADJUSTING
INSPECTION AND REPAIR
TRANSPORTATION
TRANSPORTATION PROCEDURE
LOADING, UNLOADING WORK
PRECAUTIONS FOR LOADING
METHOD OF LIFTING MACHINE
PRECAUTIONS FOR TRANSPORTATION
TRAVELING ON ROADS
REMOVAL OF CAB
INSTALLATION OF CAB
INSTALLATION OF ROPS
COLD WEATHER OPERATION
PRECAUTIONS FOR LOW TEMPERATURE
FUEL AND LUBRICANTS
COOLANT
BATTERY
AFTER COMPLETION OF WORK
AFTER COLD WEATHER
LONG-TERM STORAGE
BEFORE STORAGE
DURING STORAGE
AFTER STORAGE
TROUBLESHOOTING
AFTER RUNNING OUT OF FUEL
PROCEDURE FOR BLEEDING AIR
METHOD OF TOWING MACHINE
IF BATTERY IS DISCHARGED
STARTING ENGINE WITH BOOSTER CABLE
OTHER TROUBLE
ELECTRICAL SYSTEM
MONITOR PANEL
CHASSIS
ENGINE
MAINTENANCE
GUIDES TO MAINTENANCE
OUTLINES OF SERVICE
HANDLING OIL, FUEL, COOLANT, AND PERFORMING OIL CLINIC
OIL
FUEL
COOLANT
GREASE
CARRYING OUT KOWA (Komatsu Oil Wear Analysis)
STORING OIL AND FUEL
FILTERS
OUTLINE OF ELECTRIC SYSTEM
WEAR PARTS LIST
WEAR PARTS LIST
USE OF FUEL, COOLANT AND LUBRICANTS ACCORDING TO AMBIENT TEMPERATURE
PROPER SELECTION OF FUEL, COOLANT AND LUBRICANTS
STANDARD TIGHTENING TORQUES FOR BOLTS AND NUTS
TORQUE LIST
PERIODIC REPLACEMENT OF SAFETY CRITICAL PARTS
SAFETY CRITICAL PARTS
MAINTENANCE SCHEDULE CHART
MAINTENANCE SCHEDULE CHART
INTIAL 250 HOURS SERVICE(ONLY AFTER THE FIRST 250 HOURS)
WHEN REQUIRED
CHECK BEFORE STARTING
EVERY 250 HOURS SERVICE
EVERY 500 HOURS SERVICE
EVERY 1000 HOURS SERVICE
EVERY 2000 HOURS SERVICE
EVERY 4000 HOURS SERVICE
EVERY 8000 HOURS SERVICE
SERVICE PROCEDURE
INITIAL 250 HOURS SERVICE(ONLY AFTER THE FIRST 250 HOURS)
WHEN REQUIRED
CHECK BEFORE STARTING
EVERY 250 HOURS SERVICE
EVERY 500 HOURS SERVICE
EVERY 1000 HOURS SERVICE
EVERY 2000 HOURS SERVICE
EVERY 4000 HOURS SERVICE
EVERY 8000 HOURS SERVICE
SPECIFICATIONS
SPECIFICATIONS
ATTACHMENTS, OPTIONS
GENERAL PRECAURIONS
PRECAUTIONS RELATED TO SAFETY
SELECTION OF TRACK SHOE
SELECTION OF TRACK SHOES
PROCEDURE FOR SELECTING RIPPER POINT
PROCEDURE FOR SELECTING RIPPER POINT
CAP WITH LOCK, HANDLING
METHOD OF OPENING AND CLOSING CAP WITH LOCK
INDEX
<A
<B
<C
<D
<E
<F
<G
<H
<I
<L
<M
<N
<O
<P
<R
<S
<T
<U
<V
<W
COLOPHON
-
More products from Index of Manual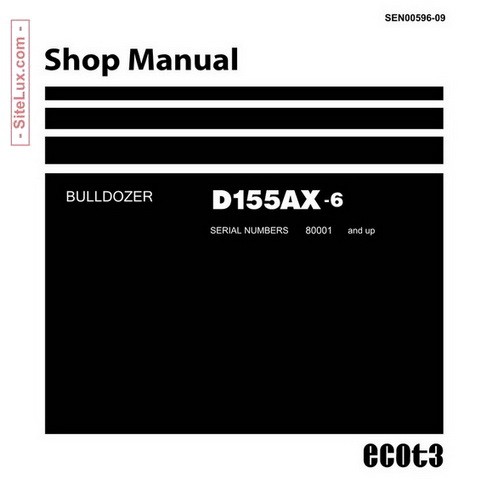 Komatsu D155AX-6 Bulldozer (80001 and up) Service Repair Shop Manual - SEN00596-09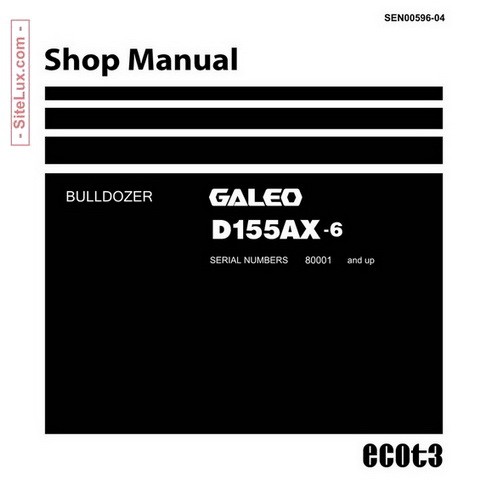 Komatsu D155AX-6 Bulldozer (80001 and up) Service Repair Shop Manual - SEN00596-04