Quantum Viral Survival
We live in very interesting times. The combination of magic science mathematics and powerful beliefs have become necessary for survival. In these dark times, we need solutions to problems. 
There is a plague infecting our planet. The effects of this could be very devastating on the lives of many people. I have been asked by a number of my clients to develop a tool to help us survive.
 I have combined numerous energetic frequencies Radionics rates powerful psionic vibrations to create a weapon against this viral enemy.
Everyone is not gonna make it.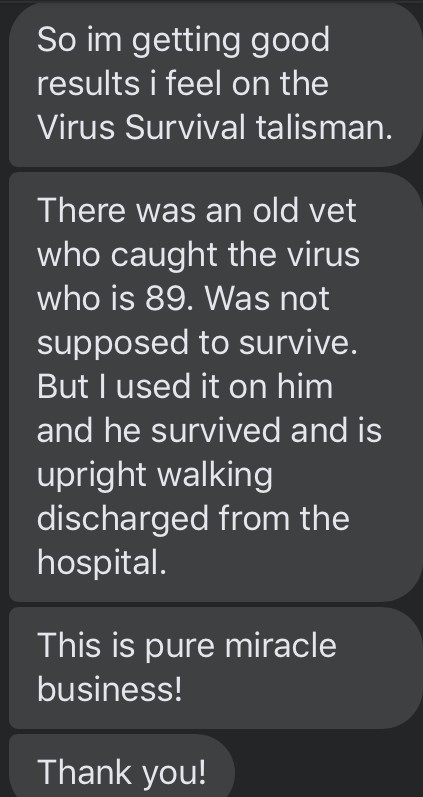 We are in a game of natural selection. The universe is testing us in a way that has not been sent for hundreds of years. The powers that be are trying to thin the herd. You must protect yourself and protect your family.
I have developed a powerful tool that may give you an edge in the survival game.
Look back at history those who survived the previous plagues were those who thought outside the box and were able to thank quickly and protect their families and loved ones.

In this chaotic world, I've learned that you cannot trust your health to the doctors your freedom to the lawyers or your education to the teachers you have to believe in a higher power.


I have taken many long nights to research and develop a powerful solution. In no way shape or form can I guarantee any medical advice.
This energetic talisman is powered by quantum grade 3.0. It is extremely powerful but it is only for experimental purposes only.
In testing, this product test subjects found relief from symptoms within six hours. (I do not guarantee or make any medical claims)
The basic version includes:
Copyright © 2020, Moonshadow. All Rights Reserved. This content may not be duplicated without written permission from the author.
THIS NOT DESIGNED TO, AND DOES NOT, PROVIDE MEDICAL ADVICE. ALL CONTENT ("CONTENT"), INCLUDING TEXT, GRAPHICS, IMAGES, FILES AND INFORMATION FOR GENERAL INFORMATIONAL PURPOSES ONLY.
THE CONTENT IS NOT INTENDED TO BE A SUBSTITUTE FOR PROFESSIONAL MEDICAL ADVICE, DIAGNOSIS OR TREATMENT. NEVER DISREGARD PROFESSIONAL MEDICAL ADVICE, OR DELAY IN SEEKING IT, BECAUSE OF SOMETHING YOU HAVE READ IN THIS INFORMATION. NEVER RELY ON INFORMATION ON THIS PRODUCT TO REPLACE THE SEEKING OF PROFESSIONAL MEDICAL ADVICE.
DISCLAIMER OF WARRANTIES AND LIMITATION OF LIABILITY
USE THIS WEBSITE AT YOUR OWN RISK. RESULTS BEYOND EXPECTATION, INC., ITS OWNERS, REPRESENTATIVES, AND AFFILIATES SHALL NOT BE LIABLE TO YOU OR ANYONE ELSE FOR ANY LOSS OR INJURY OR ANY DIRECT OR INDIRECT, INCIDENTAL, CONSEQUENTIAL, SPECIAL, PUNITIVE OR SIMILAR DAMAGES ARISING OUT OF YOUR ACCESS OR USE OF, OR YOUR INABILITY TO UTILIZE THE INFORMATION AND OPINIONS EXPRESSED ON THIS WEBSITE AND THE PRODUCTS SOLD THEREON THIS WEBSITE
More products from Psionic Warriors