IRELAND: Crossroads of Art and Design, 1690-1840 – The Music: CD
An album of music that is a companion to the exhibit that opened on St. Patrick's Day, 2015, at the Art Institute of Chicago.
There's a host of excellent musicians, playing music of the time and music composed by Liz Carroll that has been inspired by the exhibit.
Produced by Liz Carroll, Liz Knowles, and Marty Fahey.
Musicians are Liz Carroll, Liz Knowles, Tríona Ní Dhomhnaill, Catríona McKay, Kieran O'Hare, Marty Fahey, Trevor Hutchinson, Jackie Moran, Emer Mayock, Aoife Ní Bhriain, and Mick O'Brien.
1 Carolan's Concerto 
2 Blind Daniel The Piper 
3 Crow Street 
4 Lady Gordon's Minuet 
5 A View From The North 
6 Soft Mild Morning 
7 The Lough Derg Cross 
8 A Tale Of A Tub 
9 The Potter's Wheel 
10 The Droning Old-Aged Woman 
11 Byrne's March 
12 Planxty Charles Bunworth 
13 Rose And Kathleen's 
14 The Dark Slender Boy 
15 The Plane Of The Plank 
16 The Knight Of Glin's 
17 Sir Ulick Burke 
18 Irishtown 
19 A Magic Mist That Came Over Me One Night And Put Me Astray 
20 The True Love Of My Heart 
21 Carolan's Farewell To Music 
find out more at
https://lizcarroll.com/buy-the-music
More products from McKay Stout Music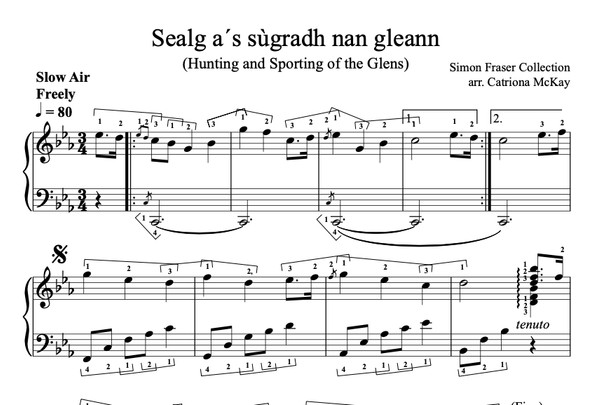 Sealg a ́s sùgradh nan gleann, Hunting and Sporting of the Glens, INT level, arr. C McKay