Bare Knuckle 2018 Chris Stout & Catriona McKay
'Stout's tonal range and bow mastery – now gliding on Villa-Lobos' Bachianas Brasileiras No 4 Preludio, now choppy as the North Sea in winter – and McKay's sense of enquiry and harmonic strumming and shape-forming are as breathtaking as they are excitingly, gorgeously, emotionally satisfying. A landmark release.' The Herald
CHRIS & CATRIONA awarded Best Duo at BBC RADIO 2 FOLK AWARDS 2018
1. Seeker Reaper - Chris Stout
Inspired by the epic George Campbell Hay poem which celebrates the life of Sireadh - 'Seeking' in Gaelic. One of the last ring-net fishing boats to be working out of Loch Fyne. 'There's a daft song trembles through me'
In so many way this is a metaphor for our lives in music.
2. Dealer in Hope - Chris Stout/Catriona McKay
A tune written for the wonderful musician, violinist and good friend Jonathan Morton, celebrating his 10 year leadership of the Scottish Ensemble.
'A leader is a dealer in Hope' - Napoleon Bonaparte
3. Louise's Waltz - Catriona McKay
4. Moscow Rush
Two tunes composed for Pianist Barry Douglas after an adrenaline fueled weekend in Moscow. Concerts, Parties, Russian Philharmonic, late night blethers, exhilarating drives around the crazy city from gig to gig.. We were often on as much of a high arriving at a concert than the concert itself… An hilarious, unforgettable weekend with Barry, Boris Berezovsky and all!
1. Barry's Reel - Catriona McKay
For Barry Douglas
2. Sair Fecht! - Chris Stout
'Sore Fight' in Scots. Ironic in this case.
5. Time to Retreat - Chris Stout
'…live to fight another day..'
6. Tingaholm - Chris Stout
Tingaholm is the ancient seat of Norse Parliament in Shetland. The contrast to the quiet and unassuming place it is today is quite astounding. Still the quiet energy of colossal changes and decisions made that shaped lives and souls of the people in modern times remains strong.
7. Bare Knuckle - Chris Stout/Catriona McKay
The raw, truthful interaction between two people, graceful yet uncompromising.
8. Stealthy Schooner - Chris Stout/Catriona McKay
9. Bachianas Brasileiras No. 4 - Heitor Villa-Lobos
This stunning tune composed by Brazil's most celebrated composer brought us together with an amazing and inspirational orchestra of young people of all backgrounds in Rio a number of years ago. The concert was held in Parque Lage, a subtropical forest in the heart of the city overlooked by the Statue of Christ. It was a powerful and moving experience we will never forget.
mckaystoutmusic.co.uk
this music is breathtaking."fROOTS
" Extremely powerful " Living Tradition
"worth buying for its stunning opening track alone" ***** The Scotsman
"a gobsmakingly wonderful duo." TAPLAS
"This really is a stunning album…truly inspired." FIDDLE ON
"glittering harp work...exceptional bow control" The STRAD
"clear and strong…always a startling freshness and spontaneity at work...virtuosic and physically engaging…"Live at the Queen's Hall *****The Glasgow Herald
More products from McKay Stout Music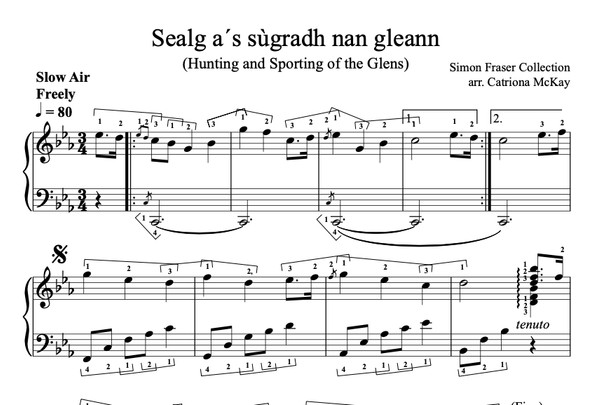 Sealg a ́s sùgradh nan gleann, Hunting and Sporting of the Glens, INT level, arr. C McKay